skip to content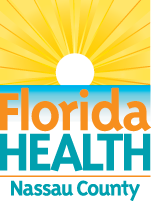 It's a New Day in Public Health.
The Florida Department of Health works to protect, promote & improve the health of all people in Florida through integrated state, county, & community efforts.
skip to content
DOH-Nassau - Florida Department of Health in Nassau County Addresses County Health Rankings 2019
March 19, 2019
Fernandina Beach, Fla. - The Florida Department of Health in Nassau County recognizes the value in measuring health outcomes and today acknowledged the 2019 County Health Rankings & Roadmaps tool released by the University of Wisconsin and the Robert Wood Johnson Foundation. This study highlights the many community factors that influence health and uses established data, much of which is available from the department at www.FLHealthCHARTS.com.
The Florida Department of Health in Nassau County works in collaboration with local governments, non-profit organizations, health care facilities, business groups, schools, faith-based organizations and many other stakeholders to improve the health of all people in Nassau County. According to Dr. Eugenia Ngo-Seidel, MD, MPH County Health Officer: "Whenever we see a decline in health measures, it is important to look for individual and collective changes we can make to improve both the health outcomes we see today and the factors that will contribute to future health".
These rankings are a snapshot of the health of counties across the country, and they emphasize that health is not a singular effort but a combined work in progress across all community partners. These rankings use data related to physical environments, social and economic factors, health behaviors and clinical care.
The Rankings measures include two main categories: Health Outcomes and Health Factors. Health Outcomes use length of life and quality of life as standard measurements to describe a community's health. Health Factors are indicators that help determine our future health (i.e., factors that can ultimately make us sick or lead to an early death). Health Factors rankings use data related to physical environments, social and economic factors, health behaviors and clinical care. New this year are subcategories that look at quality of care, life expectancy, severe housing cost burdens, and disconnected youth. The Rankings can reveal strengths and obstacles to health and can give focus and direction to help make Nassau County a healthier place to live.
The results of the 2019 County Health Rankings report show how Nassau County ranks among all Florida counties - overall 36th of Florida's 67 counties. The Rankings show that Nassau County remains strongest in one of the two main categories, Health Factors, where it maintained its rank of 8th in the state. Nassau County rankings improved from 2018 to 2019 in the three areas: clinical care (17th to 10th) physical environment (57th to 35th), and teen birth rate (29 to 26).
The key area that affected overall decline in ranking was length of life, which dropped from 24th (2018) to 44th (2019). An additional health factor not included in the overall rankings that may have contributed to shortened length of life is the drug overdose death rate 16 to 23, a 44% increase from the previous report year. Other notable measures in which the Nassau County rate exceeded the state rate include injury death rate (99 vs.76), and firearm fatalities (21 vs. 13).
Health equity is a key strategic priority for the Florida Department of Health, which recognizes there are opportunities to identify and improve health disparities. The race and ethnicity subcategories are an opportunity to describe differences in population health. In Nassau County, rates of premature death and low birthweight infants in blacks have remained elevated in the past two years compared to whites.
In Nassau County, the Community Health Improvement Plan (CHIP) 2019-2021 is designed to address specific opportunities for improved health that have been identified by the community. The Partnership for Healthier Nassau is a diverse group of community partners who facilitate and track progress of the CHIP for Nassau County. The CHIP is a three-year strategic health plan created by the community, for the community. This plan includes five strategic areas that align with Health Factors identified by the 2019 Rankings. These include access to care, behavioral health/substance abuse, community support, health disparities and housing & healthy places.
CHIP workgroups are active with implementing strategies aimed at reducing poor health outcomes and health disparities. Current efforts include support of the Nassau Infant Mortality Taskforce/Best Babies Zone project, promotion of the NassauTRANSIT voucher program, an analysis of suicide data to direct changes in care by the Behavioral Health Collaborative, increased provision of Mental Health First Aid courses by Starting Point Behavioral Healthcare and Nassau Alcohol Crime Drug Abatement Coalition (NACDAC), expansion of the Interfaith Health outreach program, support of the Nassau Aging Friendly in Public Health initiative, and the creation of a Nassau housing coalition to address housing needs on a spectrum from homelessness to home ownership.
A continued success story which addresses reducing access to care issues is NassauTRANSIT, a service of Nassau County Council on Aging, Inc. NassauTRANSIT operates Florida's state-designated public transportation system in Nassau County. As one means of extending service across the county, NassauTRANSIT has a Public Transportation Partner program that promotes businesses and service agencies who support public transportation. According to Mike Hays, Transportation Director, "in an effort to increase access to medical appointments and other services, we continue to promote to partners and citizens the multi-ride bus fare voucher program. Vouchers are purchased at discounted prices and provided to employees, customers and the general public. Baptist Nassau Hospital, WestRock, Starting Point Behavioral Health, Salvation Army Hope House, Barnabas the Florida Department of Health (Nassau) and many others are currently participating in the Public Transportation Partner program."
Another program working to make great strides in reducing health disparities is the Interfaith Health outreach program. This program provides health education for free to any faith based group/church by health professionals (doctors, dieticians, counselors etc.) The goal of this outreach is to reduce the incidence of persons dying from preventable illness and to increase utilization of health screenings. According to Mary von Mohr, CHIP facilitator, "The citizens of Nassau County are passionate about creating a healthier community. Everyone is critically important and has equal rights to thrive and feel their best. We are providing health outreach to the churches, with a special focus on chronic health illness to include screening for breast health, prostrate and colon health. We want to empower people with knowledge and provide resources to support healthy homes, neighborhoods and communities. There is great pride and love for where we live. By joining the CHIP efforts, you can be a part of our success story.
Barbara Baptista, MS, a community health advocate and member of the PHN Steering committee and Age-Friendly Nassau Advisory Council shared "our health is truly our wealth. When we get involved to make community actions work for better health we benefit from the outcome as do others. We all want to be healthy so get involved and let us help you find your role."
Health is everyone's responsibility. Working together, everyone can make Nassau County a healthier place to live, learn, work and play. To learn more about the CHIP or Age-Friendly initiative call Mary von Mohr at 904-557-9133.
To explore more health indicators in your county, visit www.FLHealthCHARTS.com.
About the Florida Department of Health
The department, nationally accredited by the Public Health Accreditation Board, works to protect, promote and improve the health of all people in Florida through integrated state, county and community efforts.
Follow us on Facebook, Instagram and Twitter at @HealthyFla. For more information about the Florida Department of Health, please visit www.FloridaHealth.gov.